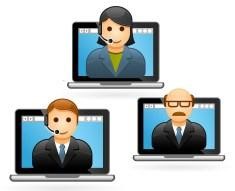 WebRTC video conferences
Based on Web Call Server you can deploy a video conference in a browser for three or more active participants. You can use any design and video frames layout and size to make the conference interface fit your web project best.
During the conference, each user plays video streams of all other participants, while the server manages connection to the 'room', processes statuses and distributes video streams among participants.
Specification
Platforms

Chrome
Firefox
Opera
IE
Edge
Android SDK
iOS SDK

Technologies

WebRTC
Flash, RTMP, RTMFP

Codecs

Features

Video conferencing
Text messaging
WebRTC video conference operation flowchart
Users connect to WCS from browsers on desktops, tablets or smartphones. Each user sends his or her video stream to the server, then displays video streams of other participants connected to the conference. Therefore, all users are in the same 'room' where they can see and hear each other.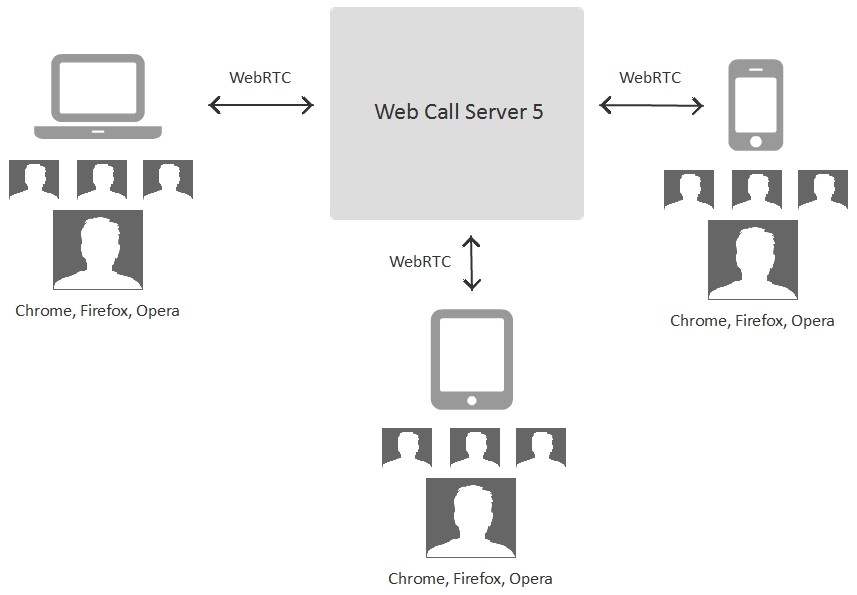 Step-by-step diagram of a WebRTC video conference operation
Browser 1 sends video stream B1
Browser 2 sends video stream B2
Browser 3 sends video stream B3
Browser 1 fetches and plays video streams B2 and B3
Browser 2 fetches and plays video streams B1 and B3
Browser 3 fetches and plays video streams B1 and B2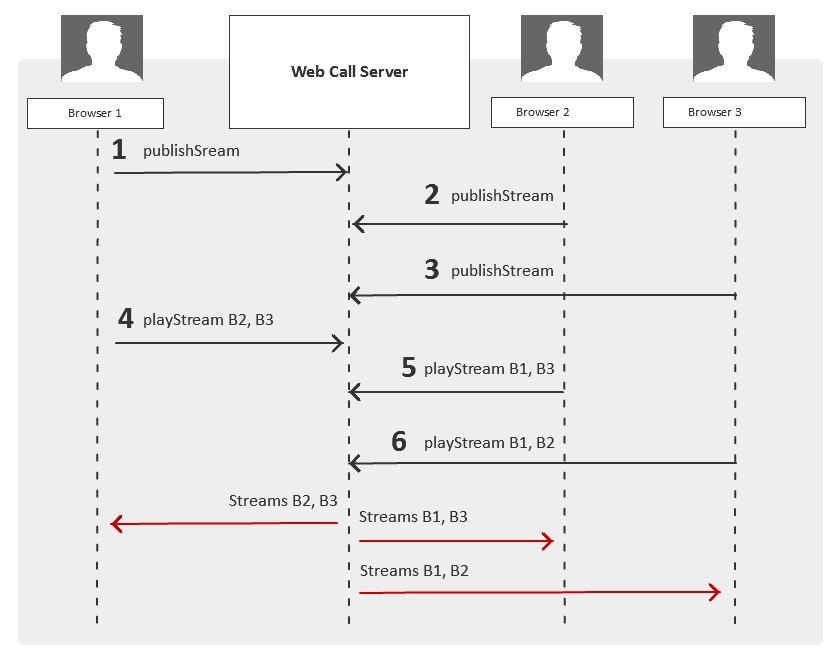 Therefore, the WCS server accepts one video stream from each browser and dispatches N-1 streams to each browser, where N is the number of participants in the conference, in our case = 3.
Example WebRTC video conference in a browser
The given example is a video conference of three participants conducted in the Google Chrome browser. For this test we used a virtual web camera.
Each of three users sees videos of the other two participants of the conference. The preview video of user's own web camera is displayed under the 'Connection' block.
For more information about testing and to evaluate the demo, please see the Testing section.
Download Web Call Server 5
System requirements: Linux x86_64, 1 core CPU, 1 Gb RAM, Java
Installation:
wget https://flashphoner.com/download-wcs5-server.tar.gz
Unpack and install using 'install.sh'
Launch server using command 'service webcallserver start'
Open the web interface https://host:8888 and activate your license
If you are using Amazon EC2, you don't need to download anything.
Web Call Server 5 - Trial
The 30-days license is provided once for a person or organization. Please use your corporate email.