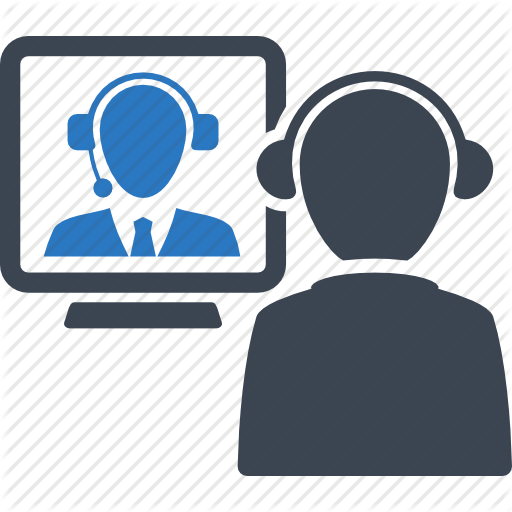 Testing the video chat in a browser
Let's test the video chat between Chrome and Firefox browsers using virtual cameras (you can use conventional web cameras too).
We open a video chat window in Chrome, then in Firefox and finally make a call from Chrome to FF
For testing purposes we use the demo at https://wcs5-us.flashphoner.com:8888 and the Demo / Video Chat section.
We open a page in the Google Chrome browser, enter data and click the 'Connect' button. As a result, the browser establishes connection with the server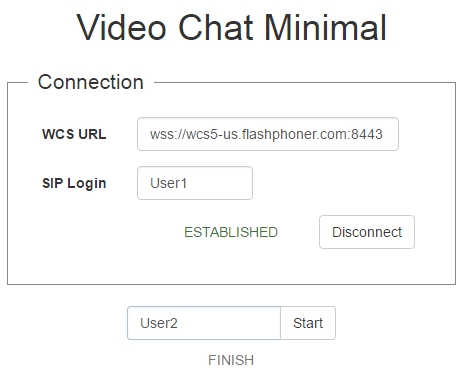 In the 'Login' field we specify an arbitrary user name User1 that we use for the video call.
Then, we open the same window in Firefox and specify User2 as the username. Further, we make a call from one browser to the other (from User1 to User2). In the callee browser we click 'Answer' and end up with the established video chat.
User interface of the User1 video chat: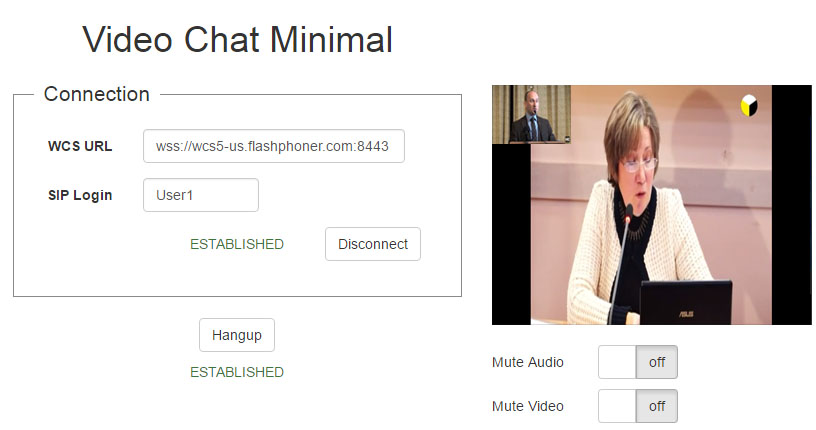 User interface of the User2 video chat:
You can finish the video chat clicking the Stop or Hangup buttons. The interfaces then return to their initial state.
Therefore, we have tested the video chat in Chrome and Firefox browsers using the WebRTC technology.
Browser video chat can be integrated to your website or web service. This process is explained in all details in the Embedding section.
Live video of testing WebRTC video chat between Google Chrome and Firefox
Download Web Call Server 5
System requirements: Linux x86_64, 1 core CPU, 1 Gb RAM, Java
Installation:
wget https://flashphoner.com/download-wcs5-server.tar.gz
Unpack and install using 'install.sh'
Launch server using command 'service webcallserver start'
Open the web interface https://host:8888 and activate your license
If you are using Amazon EC2, you don't need to download anything.
Web Call Server 5 - Trial
The 30-days license is provided once for a person or organization. Please use your corporate email.