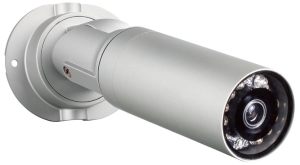 HTML5 RTSP player
Playback of RTSP streams in browsers and mobile apps using WebRTC and Websocket technologies
Broadcasting and playback of an RTSP stream in browsers and mobile apps without installation of any software or plugins, right on the HTML page.
RTSP playback in mobile apps for iOS and Android
Use HTML5 WebRTC and Websocket technologies for RTSP audio and video playback in real-time with low latency
Web Call Server is a server-side software converting an RTSP stream to the format adapted to a web browser or mobile app.
Specification
Video stream is being captured from an RTSP source (see RTSP sources). The RTSP source returns audio and video in supported codecs (see RTSP codecs). Then the video stream is being transformed on the server-side for further playback in browsers and mobile devices (see RTSP playback). Eventually RTSP playback is done using the playback technologies (see Playback technologies).
RTSP sources

IP cams
Mediaservers
Video surveillance
CCTV servers
Conference servers

RTSP playback

Chrome
Firefox
Opera
Safari, Mac OS
Safari, iOS
IE
Edge
iOS SDK
Android SDK

RTSP-codecs

H.264
VP8
AAC
G.711
Speex

Playback technologies
RTSP-HTML5 playback scheme
Web Call Server connects to an IP camera or to another RTSP source via the RTSP protocol, receives audio and video traffic, converts the stream to a format compatible with browsers and mobile apps, and broadcasts the streaming video to HTML5 pages and mobile devices for end users.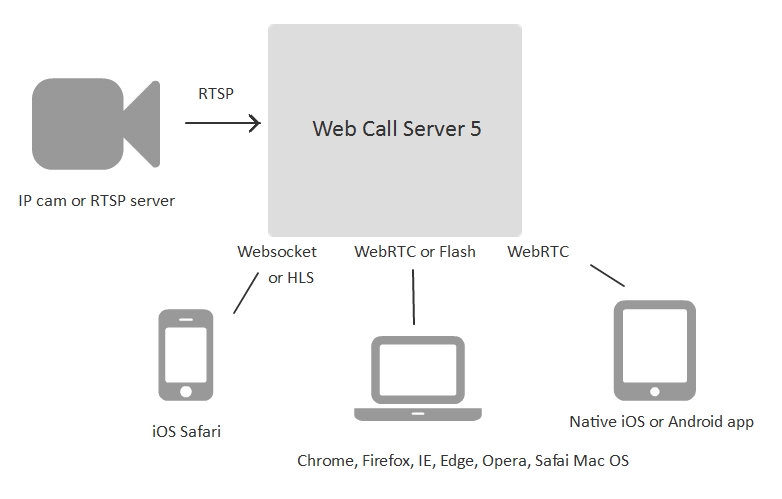 Step by step RTSP broadcasting to an HTML5-browser
or mobile app
The browser connects to the server via the Websocket protocol and requests an RTSP video stream. This is where the broadcast starts.
The browser requests an RTSP stream
Web Call Server connects to the IP camera and fetches the RTSP stream requested by the browser
The IP camera transmits audio and video traffic within the RTSP connection
Web Call Server transforms the traffic to the WebRTC or Websockets format and passes it to the browser for playback
RTSP HTML5 player in WebRTC browser Google Chrome
Here you can see example how the player works in Chrome browser over WebRTC
RTSP HTML5 Player Demo
Visit our demo server to test the demo player in action
Download Web Call Server 5
System requirements: Linux x86_64, 1 core CPU, 1 Gb RAM, Java
Installation:
wget https://flashphoner.com/download-wcs5-server.tar.gz
Unpack and install using 'install.sh'
Launch server using command 'service webcallserver start'
Open the web interface https://host:8888 and activate your license
If you are using Amazon EC2, you don't need to download anything.
Web Call Server 5 - Trial
The 30-days license is provided once for a person or organization. Please use your corporate email.