Automatic Gain Control Filter(AGC) For Wowza Media Server
Adobe Flash Player does not support AGC feature, that's why a Flash Player client microphone might produce too high or to low voice gain and affect on voice quality for end-users. WZ-AGC is an extension for Wowza Media Server which performs server-side AGC processing for audio streams been published to Wowza server.
WZ-AGC Live Broadcasting Scheme: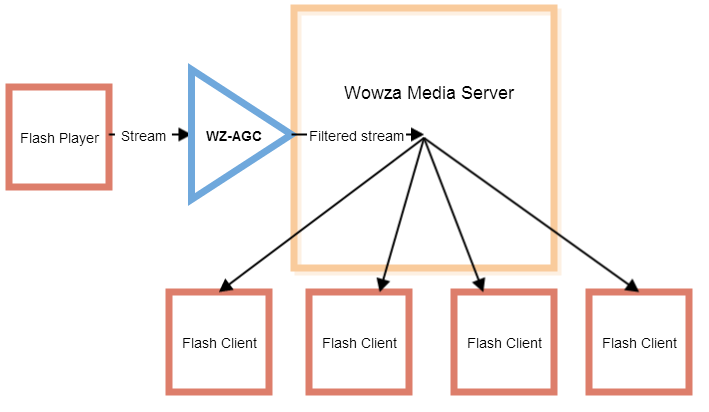 WZ-AGC Live Video Chat Scheme:

WZ-AGC Features
Codecs: G.711 alaw, G.711 ulaw, Speex 16000 (Wideband) are supported
AGC Filter can be attached to Wowza server-side application.
Audio+Video streams will be processed by the filter in audio part of a stream
AGC will automatically increase the publishing voice if the voice is too low, and it will decrease voice if the voice is too high.
WZ-AGC Usecases
Webinars
Audio and video chats
Live video streaming
Interactive TV
WZ-AGC Requirements
Linux x86_64 is currently supported
JDK 1.7
Installation Notes
1. Wowza/lib-native/linux64/libspeex.so wowza lib will be backed up to libspeex.so.wowza.backup. You can restore the lib any time in future.
2. Streams.xml file will be changed. AGC stream description will be added to the config.
Any other Wowza configs will not be changed by WZ-AGC installation scripts.
Quick Start
1. Download and install Wowza Media Server
2. Download WZ-AGC
3. Unpack and run install.sh script.
4. You can also install testing Wowza application "videochat" to test the AGC filter. The application is a simple Wowza app which has StreamType = agc.
5. Publish an audio stream(speex) to the testing application and playback the published stream.
6. Check how AGC works.
WZ-AGC is is a free demo version limited by 1 publishing stream. Subsequent publishing streams will not be filtered by AGC filter. If you are interested in the solution for production usage, please write us to support@flashphoner.com with any questions.
Latest News
How to create a streaming CDN for low latency WebRTC video broadcasting

Who needs broadcasting with guaranteed low latency? In fact, there are many ways to use it. For instance, in online video auctions. Imagine yourself being an auctioneer.
- "Two hundred thousand, one "
- "Sold!"

With high latency you will end up saying "two hundred thousand, three" even before the video of your "one" arrives to participants. To let them bid in time, the latency must be low.

Simply put, low latency is vital for any game-like scenario, be that an online video auction, video broadcasting of horseraces or an online version of the "Jeopardy" game – all those applications require guaranteed low latency and transmission of video and audio in real time.

21, October 2017

We release support for iOS Safari 11 browsers with the WebRTC technology

17 October 2017

We released an update of its Web Call Server 5 media server to work with Safari 11 in iOS and MacOS. The update allows developers to create streaming broadcasting apps, video chats, video calls and other web applications that work directly in Safari 11 browsers from Apple on iPhone and iPad.

18, October 2017

iOS Safari 11 now supports WebRTC

A week ago, new iPhones were released along with iOS 11 – a notable event. This release among everything else has brought one more important thing to developers: the Safari browser received long-awaited support for WebRTC.

Think for a minute: millions of iPhones and iPads all over the world suddenly learned to play real-time audio and video in a browser. iOS and Mac users can now enjoy full-functional in-browser video chats, live broadcasts with low (less than a second) real-time latency, calls and conferences and more. The road was long, and now we are here.

11, October 2017
More News