Testing video stream recording in various browsers
Recording from browsers is powered by WebRTC and Flash technologies. We test both options with Google Chrome (WebRTC) and IE (Flash) browsers.
For testing we use the demo server available at: https://wcs5-eu.flashphoner.com:8888
Use the demo/demo login/password pair to sign in to the Administrator interface and go to the Demo / Stream Recording page for testing.
Testing recording in Google Chrome and IE
We establish connection to the server using the connect button. As a result, the web page establishes connection to the server via Websocket and is ready to transmit a video stream.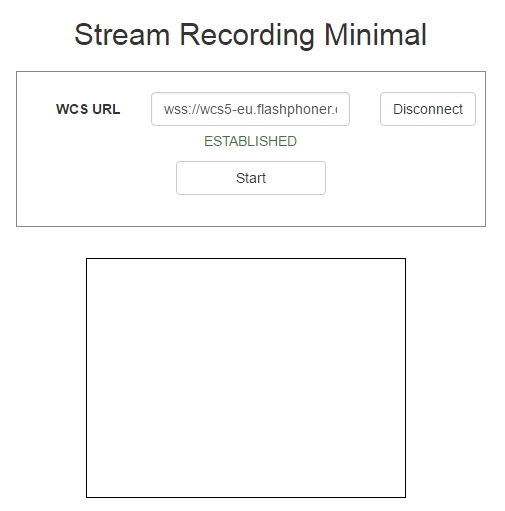 Now, we start sending the video stream to the server with the Start button. In Chrome, WebRTC connection is established to transmit the streaming video. In IE, the video stream goes to the server via the RTMFP and Flash Player.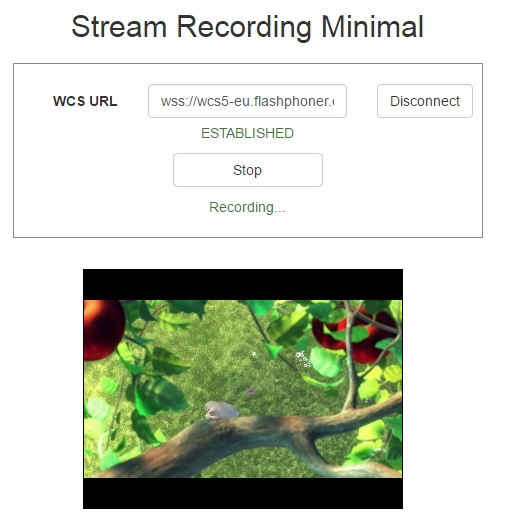 To end recording, click Stop. Upon stopping, the server closes the recorded file and releases it for download with the Download recorded stream link.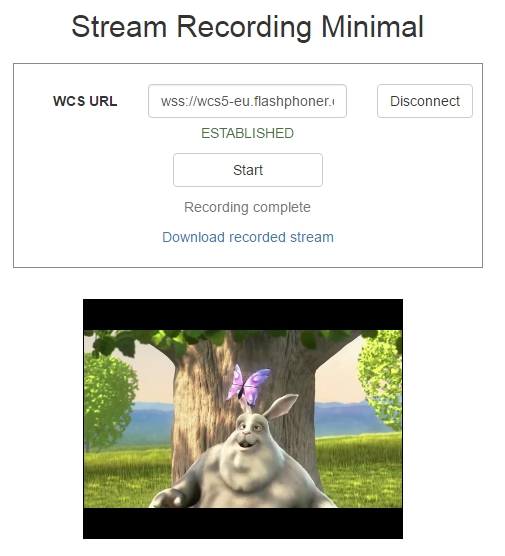 Now we simply download the file and make sure the recorded stream correctly plays in a video player. We use VLC for that purpose.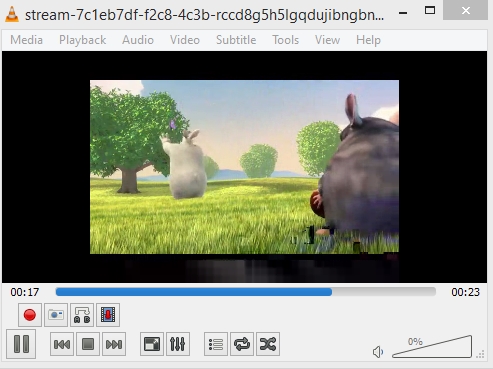 This test works in WebRTC-compatible browsers such as Google Chrome, Opera, Firefox on desktops and mobile devices that support WebRTC. It also work in IE, Edge and Safari browsers is they support Flash. The only difference is the output format of the recorded file. It is WebM for Chrome, and mp4 for IE.
The next step is to embed the recording script to a web page. You can find the detailed instruction on the Embedding page.
Live video of stream recording in Google Chrome browser
Download Web Call Server 5
System requirements: Linux x86_64, 1 core CPU, 1 Gb RAM, Java
Installation:
wget https://flashphoner.com/download-wcs5-server.tar.gz
Unpack and install using 'install.sh'
Launch server using command 'service webcallserver start'
Open the web interface https://host:8888 and activate your license
If you are using Amazon EC2, you don't need to download anything.
Web Call Server 5 - Trial
The 30-days license is provided once for a person or organization. Please use your corporate email.