Browser screen sharing and broadcasting using the WebRTC technology
Web Call Server allows broadcasting of a screen directly from Chrome, Firefox browsers with WebRTC support. A video stream can be broadcast to unlimited number of spectators who use various browsers or mobile devices to play the video stream.
Specifications
Screen-sharing browsers

Playback platforms

Chrome
Firefox
Opera
Safari
Safari, iOS
IE
Edge
iOS SDK
Android SDK

Scren-sharing technologies

Playback technologies

WebRTC
Flash
Websockets
HLS
Screen Sharing Features
Uses the WebRTC technology in Google Chrome and Mozilla Firefox browsers for screen capturing and sending the video stream to the server.
Enables Chrome and Firefox extensions to provide access to screensharing.
Converts video streams on the server side and delivers to other browsers and devices via the WebRTC, Flash and Websockets technologies.
Screensharing from a browser flowchart
Web Call Server converts the input video stream and shares it to other browsers and mobile devices.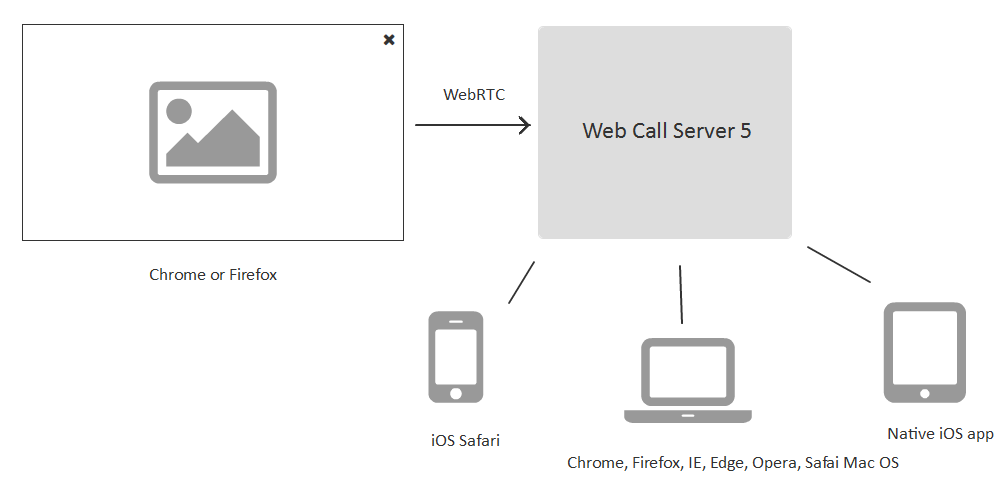 Step by step flowchart of screensharing from a browser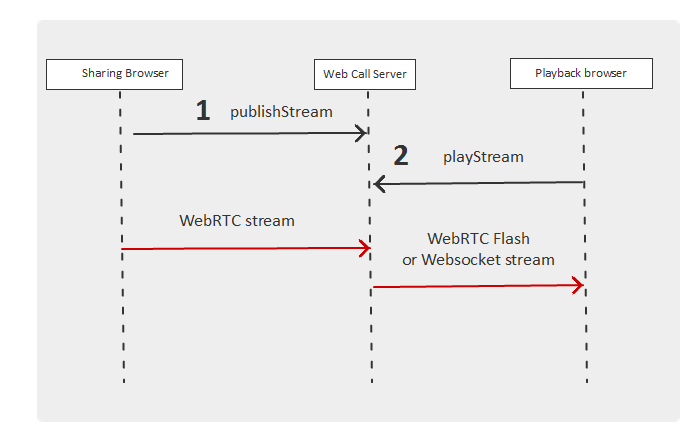 The sharing browser sends the video stream to the server with – publishStream.
Another browser or device fetches this video stream by its name – playStream.
As a result, the broadcasting browser sends a WebRTC stream that is broadcasted in several different formats depending on the receiving browser or mobile device.
Screensharing example in the Google Chrome browser
In this example we captured the screen using the Google Chrome browser in 1024×768 resolution at 10 fps and sent the video stream to the server. The sent video stream can be seen in the upper left corner.

Then, we connect to the server and play the same video stream right on the server. The same way you can connect from other browsers or locations and test how the stream is shared.
You can find the step by step description of this process in the Testing section.
Download Web Call Server 5
System requirements: Linux x86_64, 1 core CPU, 2 Gb RAM, Java
Installation:
wget https://flashphoner.com/download-wcs5.2-server.tar.gz
Unpack and install using 'install.sh'
Launch server using command 'service webcallserver start'
Open the web interface https://host:8444 and activate your license
If you are using Amazon EC2, you don't need to download anything.
Web Call Server 5 - Trial
The 30-days license is provided once for a person or organization. Please use your corporate email.