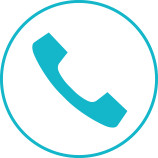 Testing of an online call from the website to mobile phones and SIP using Click to Call function
We test calling from the Google Chrome browser to a mobile phone. We use Web Call Server demo at https://wcs5-us.flashphoner.com:8888 and the Demo / Click to Call section.
Testing a call from Google Chrome to a mobile phone via the SIP gateway
We use freecall.com as a SIP provider. Data listed below are enough to make a call to a mobile phone. The number of the callee is: +79230000000
| | |
| --- | --- |
| Parameter | Example |
| sipLogin | TEST009 |
| sipPassword | 12345678 |
| sipDomain | freecall.com |
| sipPort | 5060 |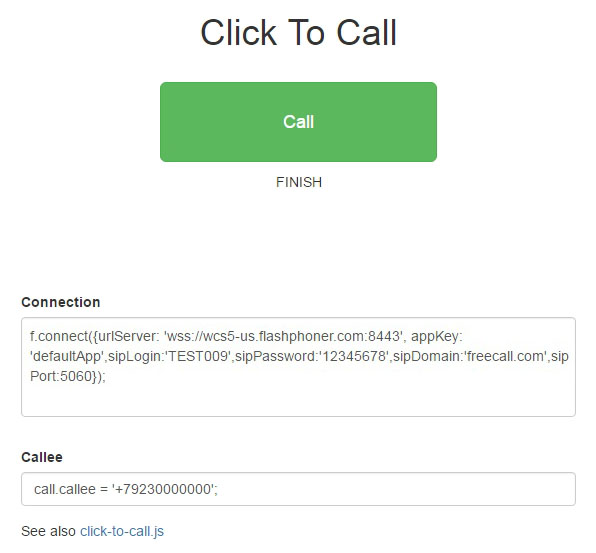 As a result, the mobile phone receives the incoming call. After the callee picks up the phone, a voice communication is established between the web browser and the mobile phone, and the button changes to Hangup. Clicking this button allows to finish the call.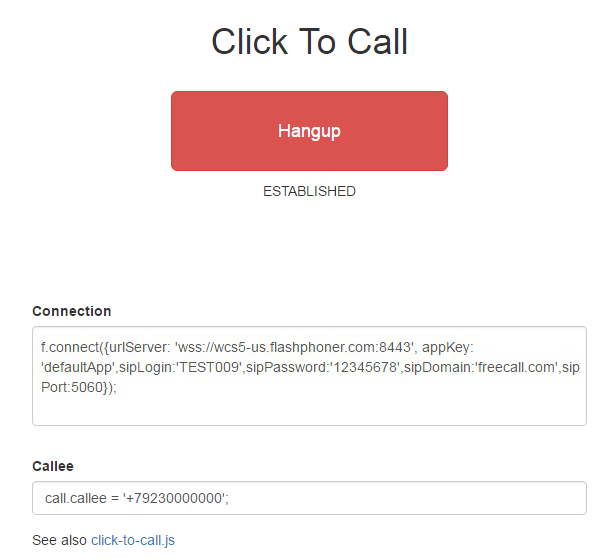 If you have SIP data from your SIP provider or a publically available digital switch, you can try to make a call using our demo page.
Adding of the Click to Call button on a website is thoroughly described in the Embedding section.
Download Web Call Server 5
System requirements: Linux x86_64, 1 core CPU, 1 Gb RAM, Java
Installation:
wget https://flashphoner.com/download-wcs5-server.tar.gz
Unpack and install using 'install.sh'
Launch server using command 'service webcallserver start'
Open the web interface https://host:8888 and activate your license
If you are using Amazon EC2, you don't need to download anything.
Web Call Server 5 - Trial
The 30-days license is provided once for a person or organization. Please use your corporate email.