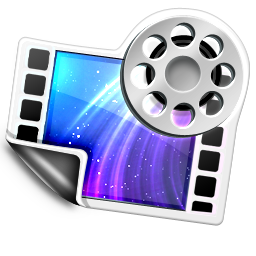 Broadcasting of a streaming video from a professional video capturing device (Live Encoder) via the RTMP protocol
Special software or hardware capturing devices (Live Encoder) are often used for online broadcasts. Such software or device captures a video stream and sends it to the server via the RTMP protocol for further rebroadcasting. Among popular software encoders are: Flash Media Live Encoder and Wirecast. They are free to try. Besides, there are a number of hardware manufacturers who produce affordable devices for RTMP video broadcasting.
Web Call Server 5 receives an RTMP video stream from such a device or software in encoded in H.264 and AAC and shares this video stream to browsers and mobile devices.
Specifications
Receives inbound audio and video streams via the RTMP protocol
Supports H.264 video and AAC audio codecs.
Shares the received video stream to the following browsers and platforms: Chrome, Firefox, Opera, IE, Safari, iOS
Uses the following video stream playback technologies WebRTC, Flash (RTMP / RTMFP), Websockets, RTSP
RTMP broadcast of a video stream from the video capturing device
Web Call Server receives an RTMP (H.264 / AAC) video stream from the video capturing device. Then, various browsers and devices connect to the server to play this video stream.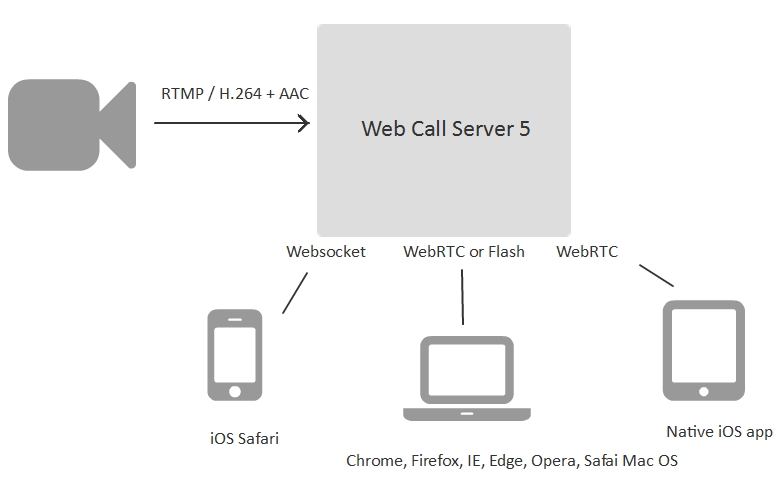 Step by step diagram of RTMP broadcasting from a video capturing device
The encoder establishes connection to the server via the RTMP protocol and sends the audio/video stream in the H.264 + AAC format using the default RTMP 'publish' call.
The connection is established, and the H.264/AAC data are being sent via the RTMP protocol.
A browser sends a request to the server and plays the video stream.
Depending on the browser, one of the following protocols is used for playback: WebRTC, Flash, Websocket.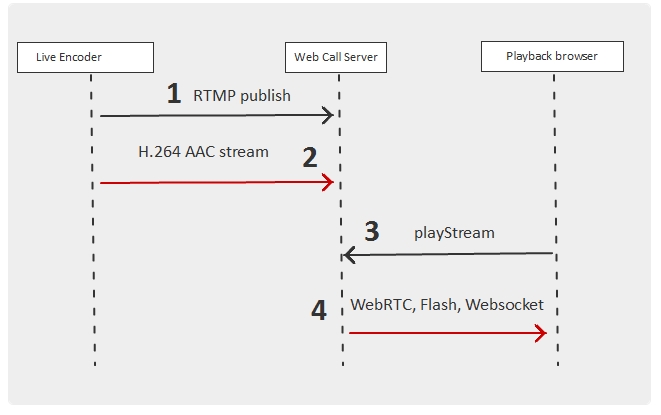 Example RTMP broadcast from the Wirecast software encoder to the Chrome browser
Wirecast allows broadcasting of a video file stored on the HDD as a simple mp4 file. The encoder converts the video file to an RTMP video stream and encodes it to the H.264 and AAC formats that are standard for RTMP.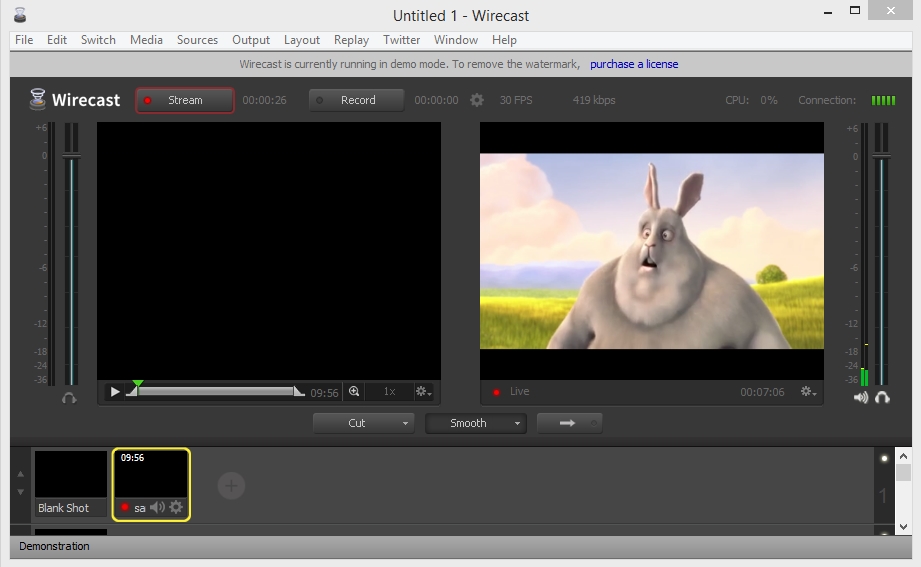 On the server side, we use a typical player example to play the video stream in the Chrome browser using the WebRTC technology.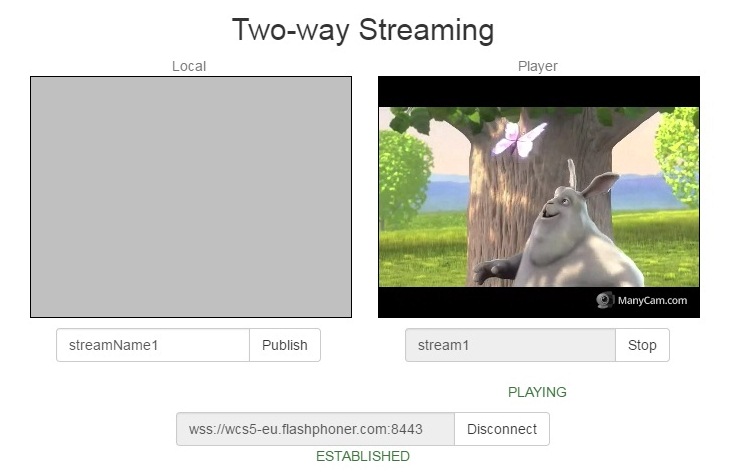 As a result, the video stream sent from the RTMP encoder plays in the Google Chrome browser. The same is true for other browsers too: IE, Safari and so on.
For more information on Wirecast testing, please visit the Testing page
.
Download Web Call Server 5
System requirements: Linux x86_64, 1 core CPU, 1 Gb RAM, Java
Installation:
wget https://flashphoner.com/download-wcs5-server.tar.gz
Unpack and install using 'install.sh'
Launch server using command 'service webcallserver start'
Open the web interface https://host:8888 and activate your license
If you are using Amazon EC2, you don't need to download anything.
Web Call Server 5 - Trial
The 30-days license is provided once for a person or organization. Please use your corporate email.